Vintage Recycling Road Show 'Model T' Truck
This truck a genuine vintage is quite an eye catcher, like the bus it too is painted inside in a fun way.
With our Education Officer it travels to Shows, Sports Days, Launches etc. spreading the 'RECYCLING MESSAGE'
Most recently attended the launch of National Tree Week performed by President Michael D Higgins.


FREE School Tours available on site
Presented by onsite Education Officer .
Phone for an appointment:-
Dundalk Recycling Centre 042 – 9329200
Drogheda Recycling Centre 041 – 9803900
As part of School Tour Pupils will:-
Learn all the benefit of recycling
Experience this state-of-the-art Recycling Centre and see for them selves just how easy it is to recycle.
Experience our unique Double Decker Recycling Bus full of fun ideas
Experience our unique Vintage Recycling Truck
Get free Recycling Bags and Boxes for their class room
Get free Organic Compost (made from centres grass & hedge cuttings) for your school Garden
Get Framed Group Photo
Get Framed Certificate
It's COOL to RECYCLE
Tours also available to Community Groups, Environmental Committee's, Scouts etc
Educational "Double-Decker Recycling Bus"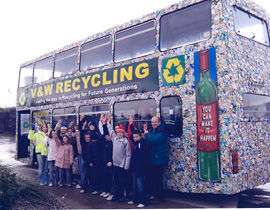 Unique inside and out, the entire outside of the bus is covered in 250,000 Aluminum Drink Cans.
Inside the floor is covered in recycled glass, the ceiling is painted by an artist depicting an ocean scene with dolphins and all throughout are many examples of products made from recyclable materials.
The bus which can accommodate up to 65 pupils is of great fun and education to all, it's the high light of the school tour. It even has its own 'Dummy' driver who sits very quietly in the driver's seat.